Last Updated
When celebrities are not in front of the camera, they're relaxing in some of the world's most luxurious destinations. L'OFFICEL, Paris born, American bred fashion magazine, took a look at spots where celebs frequent, creating a list of the top 10 across the globe. Along with Switzerland, Italy's Amalfi Coast, and Mykonos, Los Cabos made the list, home to luxurious stays, sunny skies, and unique landscapes where desert and ocean meet.
The list of celebrities making their way to Los Cabos has sharply increased, with 2022 seeing Hailey and Justin Bieber, Cardi B, and Nick Jonas and wife Priyanka Chopra – just to name a few. With options to travel directly and quickly from LA, it's no surprise that celebs choose Los Cabos as a vacation spot, especially with the area's reputation for luxurious accommodation and world-class amenities. Some resorts offer concierge services, a butler, and in-suite, personal chefs when booking accommodation – which typically includes rooms with furnished balconies with views of the surrounding sea.
Los Cabos is located in the Baja Peninsula, surrounded by the Sea of Cortez and the Pacific Ocean. Most visitors go to soak up the sun and participate in the many water-based activities – however the water is not the only reason for Los Cabos' popularity. Other notable reasons why celebs choose to flock down south include access to luxe travel and unmatched privacy.
Los Cabos Has 11 Virtuoso Properties
When celebs travel, they have a reputation for choosing the best of the best. It's no surprise that Los Cabos is on the list, with 11 Virtuoso properties lining the coast. Virtuoso is a travel agency that specializes in luxury getaways – making their picks carefully based on a number of factors. Some luxe picks where celebs commonly pop up include Waldorf Astoria Pedregal, and One&Only Palmilla – as well as any one of Los Cabos' top resorts.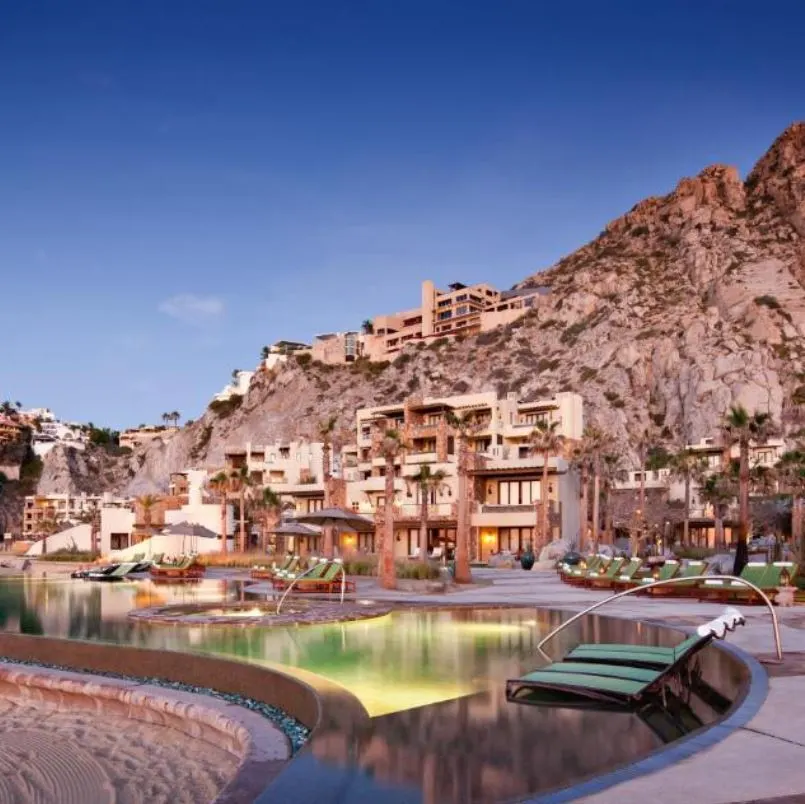 Access To Yachts + Oceanfront Properties
When it comes to planning luxurious vacations in Los Cabos, Cabo Platinum offers unmatched packages. While celebs likely have agents that do all their booking for them, Cabo Platinum makes it simple, providing all-in-one packages that include private oceanfront properties that include access to a yacht for luxury sailing. They also add in a private celebrity chef, spa treatments, and a butler for the entirety of the stay – putting an entire luxury package together from departure to return. Companies offering private and semi-private jet services also help to take vacations up a notch.
Strict Enforcement of Guest Privacy
Celebs are known to escape to remote places to take a break from the paparazzi. To attract more celebrity guests, luxurious Los Cabos resorts put guest privacy at the top of their list – maintaining a tranquil and relaxing atmosphere free from flashing cameras. Authorities work with top resorts to keep privacy and security at high levels, which helps keep "high-end celebs coming.to the region" A few notable spots that maintain guest privacy include Las Ventanas Al Paraiso (frequented by the Kardashians) and Jen Aniston's favorite One&Only Palmilla.
For travelers making their way to Los Cabos, it's likely to spot the world's rich and famous soaking up the sun, especially during busy season. To increase chances of celebrity sightings, guests should consider staying at top luxury resorts, especially those with access to luxurious amenities. All vacations can be booked by visiting the website of the main resort of interest or with help from a travel agent to build luxury, celeb-inspired packages. They can plan everything from takeoff to return with luxury in mind, adding extras and perks for a one-of-a-kind vacation.