Last Updated
This week, two people have been rescued by the Coast Guard in Cabo San Lucas. The two incidents were unrelated, with one individual sustaining injuries.
The Secretary of the Navy at the Maritime Authority reported that the two individuals were helped by the Naval Search and Rescue Station and Coast Guard near to two separate beaches in Los Cabos.
The first person rescued was a male swimming in the vicinity of El Médano beach, who began to have difficulty getting out of the sea. A Naval vessel was dispatched to help, which was in the middle of Los Cabos' 'Summer 2022' Lifesaving Operation which carries out maritime surveillance and security.
The second individual was a female who was on a boat cruise with the tour operator 'Cabo Cruz' near to El Pelícano Beach in Cabo San Lucas. A naval vessel carried out a similar rescue here, however also carried out a medical evacuation as the woman suffered a fracture in her femur.
The woman was subsequently given first aid by the naval personnel before being transferred elsewhere, where she was treated by medical personnel on the ground and transported by ambulance to a local hospital for follow-up.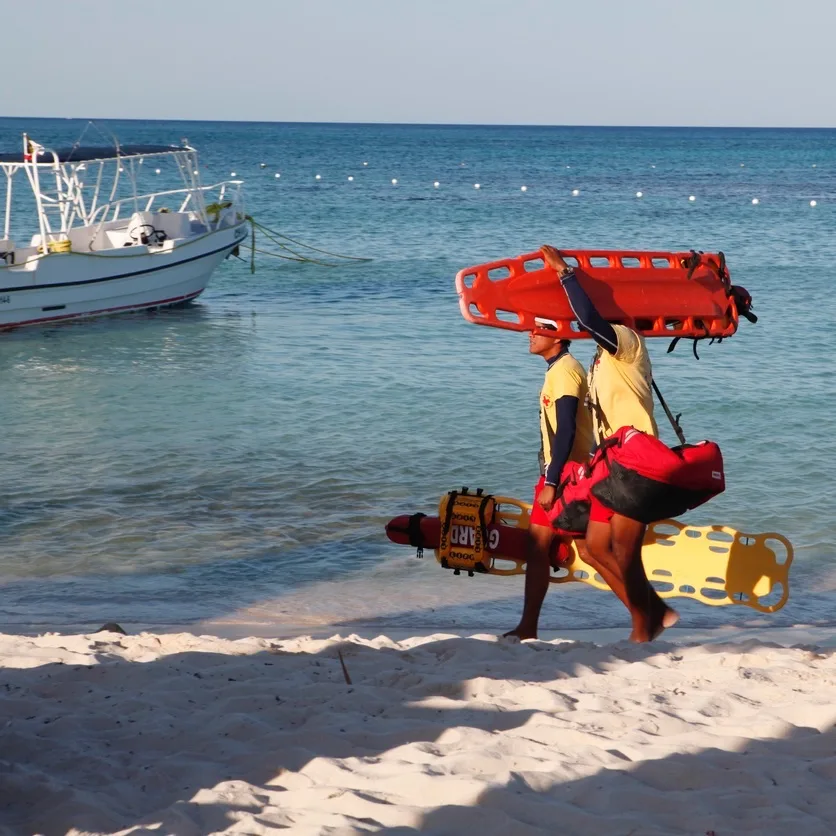 This week's rescue is a common occurrence in Los Cabos and the wider Baja California Sur region. According to the Los Cabos Maritime Authority, up to five rescues are carried out per week, particularly during tourist season.
At the end of July, eight tourists were rescued from a yacht which was stranded in La Paz. Also earlier this year in May, 14 tourists and 11 crew members were left stranded when a tour boat ran aground on the island of Socorro.
However, situations can be far more serious for those swimming and doing water sports in the area. At the previously mentioned El Médano beach, a tourist was killed in a jet ski crash in June by another driver who lost control of their vehicle.
Earlier in the year, at the beginning of May, two women drowned when swimming near Ventanas del Paraiso, due to being swept up by large waves. Although they were pulled from the sea by lifeguards they sadly did not survive.
Authorities in the area are keen to remind visitors not to underestimate the size of waves or the strength of currents here. The coastline is famous and popular for its high waves which attract surfers, but this can be dangerous for weak swimmers.
Similarly, it is important to take notice of any signs or announcements by officials which indicate the sea conditions. This includes the coloured flag system which is used during adverse weather and lets visitors know that currents may be strong, or that beaches should be avoided.
In regards to tourist boats and cruises, visitors are urged to book trips with reputable companies who have a history in the area. Seasoned captains know the waters extremely well and know what to do in case of emergency.
Although it can be attractive to book a tour with a much cheaper price, there have been increased reports recently of 'coyotes' who are scamming visitors out of money, by accepting immediate payment before fleeing.
Aside from losing money, this can be dangerous when going on a boat trip run by fraudulent guides, as they often don't have any permits or safety certifications, and may not have life jackets, first aid kits or radios if an emergency occurs.
As previously mentioned, Los Cabos authorities are keen to combat this through the Operation Lifeguard programme, which will see marine vessel patrolling waters to ensure tourists' safety and on land, health professionals will be available to treat dehydration, heat stroke and any injuries caused by rip currents.