Last Updated
There are a lot of great restaurants in Los Cabos with options ranging from quick and simple to elaborate dining experiences, and since we can't list them all we're going to highlight five of the best restaurants in Cabo according to Fodor's. Each of these restaurants offers something unique compared to the next but all the ones listed here are within the same price range. The restaurants that made this particular list are all moderately priced and all located in Cabo San Lucas.
Los Tres Gallos – While the live music and the outdoor seating surrounded by fruit trees surely add to the experience at this restaurant located in the heart of Cabo San Lucas, the real draw here is the authentic Mexican food. The owners pride themselves on using recipes handed down from generation to generation, so those seeking the true flavors of Mexican cuisine will be pleasantly surprised. Los Tres Gallos is open for dinner every day from 5-10 pm and while reservations are not required they can be made through Open Table, and takeout orders can be placed by calling +52 624-130-7709.
Alcaravea – This highly rated Italian restaurant may not be what some would typically expect in Mexico but it gets rave reviews and is considered by many to be the best Italian restaurant in Cabo. Along with traditional Italian dishes, Chef Enrique Gerard prepares local seafood and the restaurant offers a number of Mexican wines. Alcaravea is located in downtown Cabo and is open Monday through Saturday from 11 am – 11 pm, reservations can be made through the website or by calling +52 624-129-8333.
Alexander Restaurant – Located waterfront at the Cabo San Lucas Marina, Alexander Restaurant allows guests to experience the sights and sounds of Mexico while indulging in rich European cuisine, some of which is prepared table-side. While chef and owner Alex Brulhart is known for delicious fondue there is also some Mexican/Swiss fusion going on as well, with dishes like Flambéed Tequila Shrimp and Huevos ala Mexicana. The restaurant serves breakfast, lunch, and dinner and is open daily from 8 am to 10 pm, reservations are not required.
Baja Brewing Company – The main draw at the Baja Brewing Company, located on the rooftop of the Cabo Villas at Medano Beach, may be the spectacular scenery but that's before the guests discover the beers made at the brewery. In fact, the beers have become so popular that this is their second location, the first being in San Jose del Cabo, where all the beers are brewed, making them the freshest beers you can get in Cabo. Visitors can try unique brews alongside the signature beer pizzas or Mexican specialties like Ceviche or a personal street taco cart served right at the table from 8 am-midnight Monday through Sunday, and reservations can be made online through the restaurant's website.
Pancho's Restaurant & Tequila Bar – Located in the heart of Cabo San Lucas, this restaurant and tequila bar features more than 500 different tequilas, some of which can no longer be found, but the food is worth visiting for as well. Seafood is king, although you will find pork, steaks, and ribs on the menu too, and you can even have the restaurant prepare your own catch for you. Pancho's is open Tuesday through Sunday from 3:30-10:30 pm (Mondays they are closed to give staff the day off), and reservations can be made on the restaurant's website. Pancho's also offers tequila tastings.
There are more than 30 restaurants on Fodor's list of the best of the best. These are just a random selection of those that all fall within the same price range. Each will give guests a different Cabo experience but there are many more.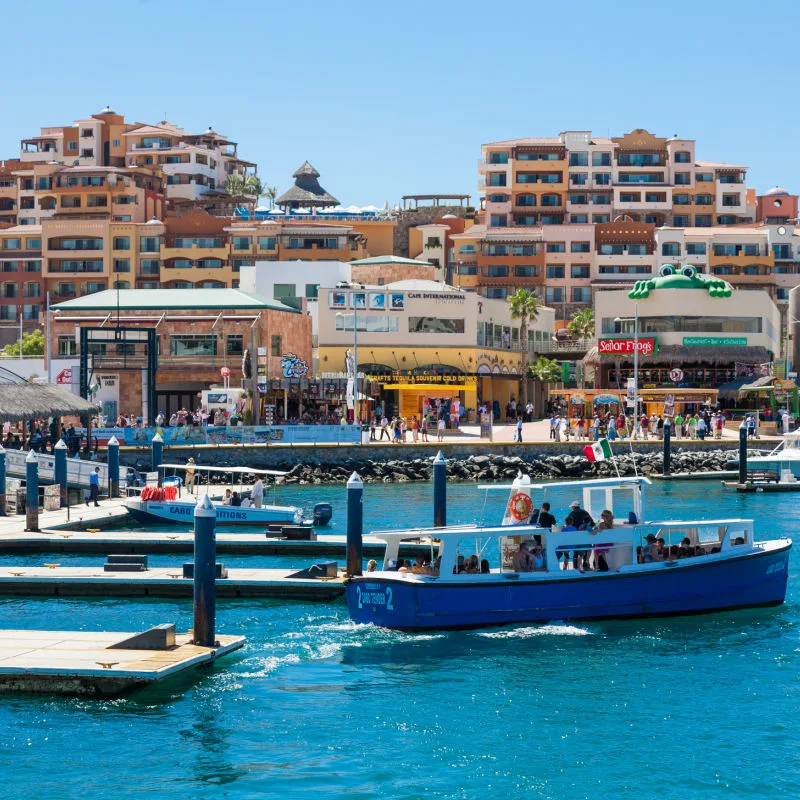 Cabo San Lucas has upped its food game over the last few years, quickly becoming a place for foodies to explore. While most visitors don't have the time to visit all the great restaurants in town, these provide a good place to start a Cabo food tour.