Last Updated
Current Arizona Cardinals defensive end JJ Watt is currently vacationing at a Cabo San Lucas resort with a group of friends and family. Including his younger brothers Derek Watt, and TJ Watt who are also NFL players. JJ, has not been shy about sharing pictures and videos about his activities with followers on his Instagram page.
He's always been a favorite of the Mexican fans due to him constantly trying to speak Spanish in TV interviews with Mexican media. He also carried the Mexican flag onto the field at the Azteca stadium when his then team the Houston Texas played in the country.
Still Working Out Even Though He's On Vacation
Watt's current team the Arizona Cardinals are set to open training camp practices for veterans like himself on the 25th of this month. JJ seems keen to make sure that his Cabo vacation doesn't cause him to come back to work out of shape. He shared a video of him working out at a local gym, it didn't necessarily look like your typical resort gym. Those may not feature the right equipment for an NFL player like JJ. He shared pictures of Spanish words written on the walls and on his sports drink. This was a couple of hours after though, he had shared pictures about the Mexican food buffet that he dug into. The workout may have been a little extra intense to make sure that the tacos and margaritas don't affect him come the 25th.
Wanting To Keep Things Private
Although neither JJ nor his wife Kealia Ohai Watt, (who by the way is an athlete in her own right playing professional soccer for the Chicago Stars), have been shy about sharing pictures on their social media they'd been reluctant to share their location. Kealia shared a picture of JJ on a rocky beach, and it was pretty clear to the trained eye that the couple had to be vacationing in the Mexican Pacific.
JJ's instagram stories with Mexican food, and Spanish signs at the gym were another clear clue that they were in fact in Mexico. It wasn't until one of the friends that is on the trip with them uploaded a picture and tagged his location as being in Cabo that it was effectively confirmed that the Watt's were in the region.
Why NFL Players Love Vacationing In Cabo
JJ Watt is at least the third NFL player that has been spotted on Cabo beaches this offseason. Jared Goff, and Zach Wilson quarterbacks for the Detroit Lions, and the New York Jets respectively are the two other players spotted in the Mexican Pacific over the last couple months. In fact, it could be argued that Los Cabos had a hand in the making of the last Super Bowl champion. It's a well known fact that Rams head coach Sean McVay, and now Rams quarterback Matthew Stanford, met in Cabo and decided to team up to bring a Super Bowl to Los Angeles.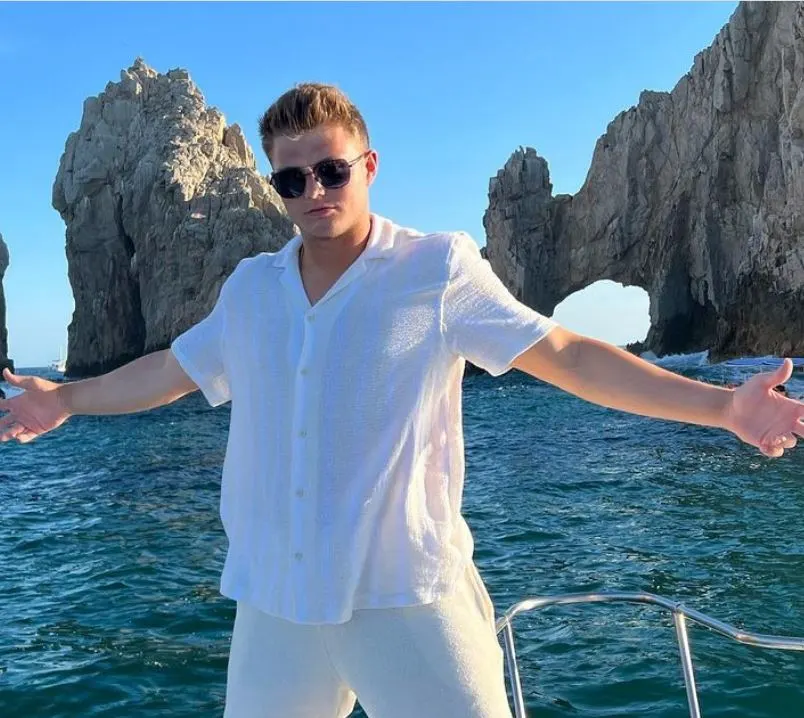 What is it about Los Cabos that makes it so appealing to NFL players, and the Hollywood elite? Privacy is potentially the main thing that these stars are looking for. Also, proximity to main LA cities, and a very competent private airport in Cabo San Lucas add to the list of features that allow the Mexican beach city to become a desirable vacation spot.
As previously mentioned, if it wasn't for JJ Watt's companion it would've been hard to definitively place him and his entourage in Cabo. That speaks volumes about the level of privacy these athletes get here. Although it also must be said that the backdrop for some of the photos that he and his pregnant wife took do kind of give it away that they are in Cabo.