Last Updated
There are not a lot of beaches where camping is allowed in Los Cabos. In fact, over the weekend a group of workers from ZOFEMAT was dispatched to Pelicanos beach in Cabo San Lucas to dismantle a camp site that had been set up on the beach by a group of surfers. When authorities arrived there was no one at the camp, but they still proceeded to remove mattresses, and surf boards that were left on the beach. They also filled a considerable amount of plastic bags with the wastes that campers had left on the beach.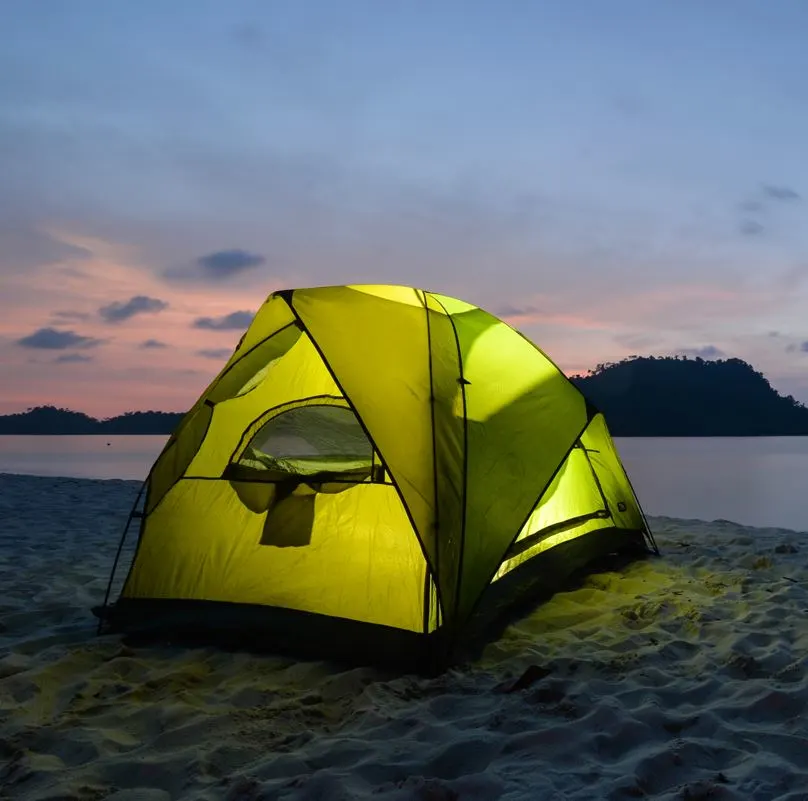 Ironically enough Pelicanos beach is one of the few beaches in the entire Los Cabos region where camping seemingly is allowed. The problem is that people who want to camp out on any Los Cabos beach have to get a permit from local authorities to be able to do so. If you want to get permission to camp out on a local beach you have to head to La Paz to solicit the permit that will allow you to camp on a Cabo San Lucas or San Jose del Cabo beach. On top of that there's a list of beaches that people aren't allowed to camp in no matter what.
Blue Flag & White Flag Beaches Are Off Limits To Campers
Los Cabos authorities certainly take quite a bit of pride in the fact that the region boasts clean beaches. The sand on these beaches in the Mexican Pacific may not feature the pearl white colors of the beaches in the Mexican Caribbean area or the warm ocean water. Los Cabos beaches though, don't have the foul smelling seaweed known as sargassum, and they are kept for the most part, free of all sorts of garbage and debris. This has allowed certain Los Cabos beaches to earn Blue Flag and White Flag certifications as environmentally friendly, and overall clean beaches.
Local authorities have made it clear on numerous occasions that allowing campers on beaches would make it virtually impossible to keep the beaches clean enough to earn these certifications. Authorities are so against campers that no one was legally allowed to camp on Cabo beaches in the 2021. Getting a permit from state authorities in La Paz to be able to camp in Cabo beaches is only a possibility that opened up in 2022.
Camping is allowed on all Los Cabos beaches with a permit with the exception of the following.
Acapulquito
Corsario
Playa Chileno
Hacienda Beach
Las Viudas
Santa Maria
La Ribera
El Medano Beach
Virtually all of the beaches in the hotel zone like the ME Cabo or Riu Palace Los Cabos Beach.
Realistic Options For Camping In Los Cabos
What can you do if you want to get the camping experience in the Los Cabos region without a permit? Well, there are campsites, and RV park facilities that you can book a stay in that will essentially give you the camping experience in Los Cabos. These lodging options certainly offer lower prices than most of the hotels in the region. Here are a couple of facilities to choose from,
Crania Reclaim Camp is a high-end beachfront camping option that features a full resort with tents that are fitted with beds and virtually all of the amenities of a traditional hotel room. The facility is certainly a lot more comfortable than just camping out on any beach. The cost per night according to Airbnb is 170 dollars on average, unfortunately the facility is shut down until October.
If you're looking for more of an outdoor adventure away from the beach you can choose Rancho Maria Isabel as your campground. The site offers a camp site where you bring your own tent for 15 dollars per family of 5. Those 15 dollars gets you access to the facilities which include jacuzzis, and full bathrooms with toilets and showers. The site also offers bike riding tours, and it has grill pits around the campground that guests are welcomed to use.