Last Updated
New York Jets quarterback Zach Wilson went on a family vacation in Cabo. The soon to be second year player shared a couple of pictures on his Instagram on a boat near the Los Cabos arch. Wilson's trip to Cabo had been a bit of a contentious topic for the New York media over the last month or so. Particularly because it was believed that Wilson would be arriving to the Mexican Pacific right around the time that the team was set to hold training camp practices.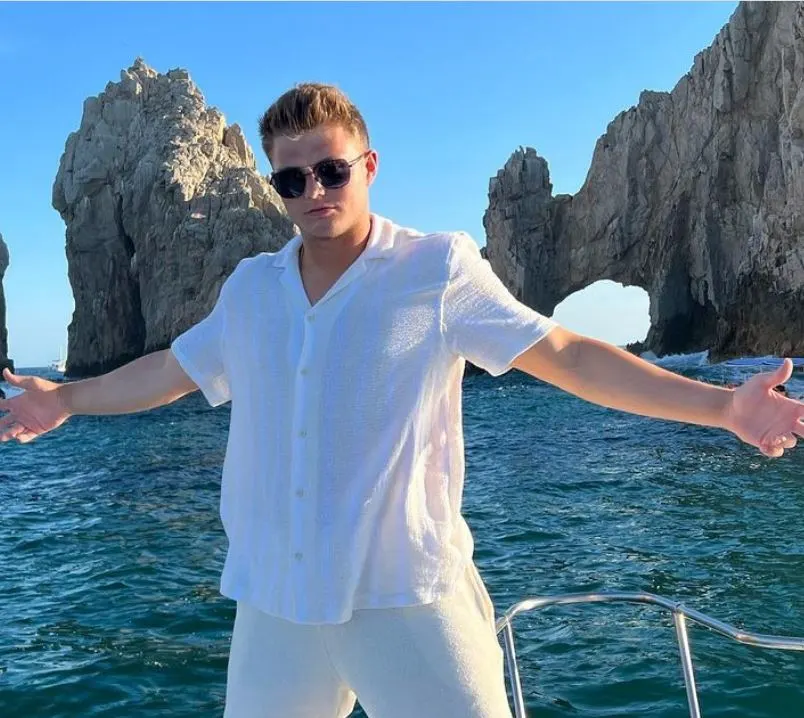 Apparently that was not ultimately the case, in fact the quarterback was only on Cabo beaches for a short amount of time. Wilson captioned the post, "Time with the fam", he had his entire entourage which included his mom and dad in the main picture on the post. He potentially did this to try and make sure fans understood that he was making this trip to the Mexican Pacific to charge up for the season, not to hit up the Cabo nightlife.
Fans Are Not Necessarily Happy That Wilson Is Enjoying Himself
Although Wilson ultimately did participate in all of the teams offseason activities and even cut his Cabo trip short to attend another football related event not all Jets fans were pleased to see their quarterback posing with a white shirt and shades with the Cabo arch in the background. A particular Jets fan on Twitter compared Wilson's behavior to Tom Brady's. Needless to say, the comparison didn't do Wilson any favors. User @APCEngineer on Twitter wrote,
"Must be nice that our 40th ranked QB that put up numbers worse than Miles Davis has the time to go to Rangers Games and Cabo never recalled TB12 posting pics of vacation in year two."
Amidst The Pressure From Fans Wilson Had To Cut His Cabo Trip Short
Little is really known at this point about what type of activities Wilson was up to in Cabo. The quarterback just wanted to make sure that fans knew that his trip was truly a family occasion. San Francisco 49ers tight end George Kittle was actually amongst the folks who put pressure on Wilson to cut his Cabo trip short.
Kittle invited Wilson to attend the second ever tight end summit that he was hosting. Apparently, Wilson's presence at the camp is meant to help some of the other tight ends at the event work out. When George extended his invitation to Wilson, the Jets quarterback apparently informed him that he was set to be on Mexican beaches on those exact dates. In a previous interview Kittle had asked fans to help him put pressure on Wilson to guilt him into cutting his Cabo trip short. Ultimately that seems to be exactly what happened.
Despite What Fans May Think Wilson Is Putting In The Work
Even though Jets fans did not love the fact that Wilson had decided to spend time in Cabo in the middle of the offseason that wasn't something that seemed to bother his coach. Jets head coach Robert Saleh had nothing but praise for Wilson after their workouts in May. Saleh was quick to say that his quarterback showed up to offseason workouts much "thicker" than he was last year. Judging from the Cabo pics though "thick" may not necessarily be the word that most people would used to describe the 22 year old quarterback. In any case, Saleh had this to say about Wilson,
"He looks good. He looks confident. Shoulders are back, he's not caved in. He's smiling. He's vocal. I've said it before, you can always tell the confidence level and their understanding of what they're being asked to do by the volume of their voice and he's getting pretty loud."