Over the past decade, Los Cabos has continued to grow into one of Mexico's most popular tourist destinations. The most important market for Los Cabos has always been the United States. While Los Cabos is expanding its tourism footprint, recent figures show they are still heavily dependent on U.S. visitors.
The United States increases its visitors to Los Cabos
The Los Cabos tourism board is all smiles these days after a record-breaking 1st quarter of 2022. While the tourism board expected a big 1st quarter for visitors, and the U.S. in particular, the percentage of U.S. visitors is impressive.

According to Rodrigo Esponda, the Los Cabos Tourism Board Managing Director, 98% of all visitors now come from the U.S. The 98% figure is a 5.4% increase in American travelers from 2019 to 2022. So, what do United States tourists seem to love about Los Cabos?
Why U.S. citizens are attracted to Los Cabos
There are many reasons why Los Cabos is a top destination for U.S travelers, but a couple of the most important are location and safety.
Mexico and the United States sharing a border means generally short travel times to Los Cabos and plenty of opportunities. Being close to the U.S. means most travelers don't spend an entire day traveling to their destination. Because who wants to use precious vacation time just trying to get to your location?
There are many available flights that are connected to Los Cabos from the U.S., particularly in the southwest. These flights are increasing every year to give tourists even more options. With pristine beaches, the Pacific Ocean, all-inclusive resorts, and world class restaurants, it's no wonder U.S travelers flock to Los Cabos so frequently.
When traveling to any destination, safety is always a top priority. Safety is one area that Los Cabos set themselves apart from the competition, especially during the pandemic. During the peak of Covid-19, Los Cabos closed for a while like every tourist destination.
However, Los Cabos didn't stay closed for long as they worked with authorities, health officials, and local businesses to implement health and safety protocols. The tourism sector was able to market anxious travelers about changes installed for their safety and was one of the quicker tourist destinations to accept tourists back.
One of a kind geography
When it comes to attractions, Esponda believes the natural geography of Los Cabos is the main one. According to Esponda, "Los Cabos offers a premier luxury experience for travelers with various interests. Visitors can experience the destination's unique combination of geography like deserts, mountains, and the ocean."
"This is one of the few places in the world where desert dunes and mountains meet the ocean. In addition, the nearby Sea of Cortez contains 30 percent of the world's marine mammals." While geography plays a significant part in tourists visiting Los Cabos, so do the activities visitors can take part in.
Many tourists from the United States want to experience Los Cabos through sports and leisure activities. Whether it's kayaking, surfing, rappelling, or more subdued activities like golf or boating, Los Cabos has been able to satisfy the American market.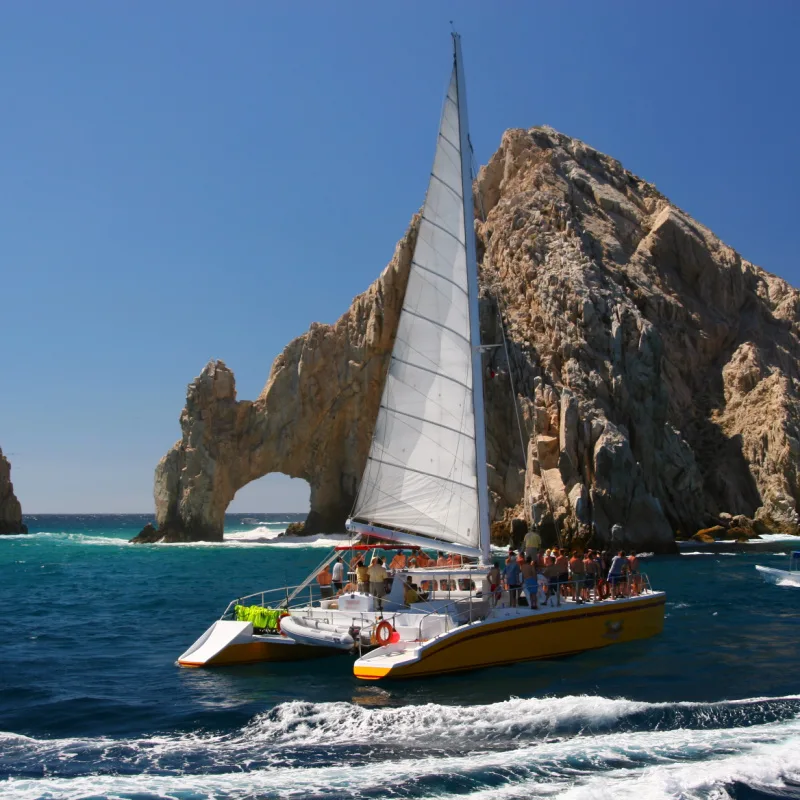 Future of Los Cabos
With all the new initiatives and gaining popularity, some wonder whether Los Cabos can keep up with this growing pace. The most immediate sign of this is the addition of several flights from American cities. More flights from cities such as Los Angeles, Phoenix, Dallas, New York, Denver, and Houston will expand the reach of American tourists and keep Los Cabos growing.
New luxury hotel options will also be coming to Los Cabos. A Four Seasons Cabo Del Sol will be added between Cabo San Lucas and San Jose Del Cabo in 2023, and this will kickstart eight other luxury hotels in the coming years.
These new additions should be beneficial for both Los Cabos and tourists looking to travel there in the future. A growing tourist industry keeps a healthy economy while also adding tourist options to make their visit more enjoyable.