Last Updated
She isn't the first and definitely won't be the last, but Real Housewives of Beverly Hills star Sutton Stracke is the most recent celebrity to celebrate a birthday in Cabo. The TV star and boutique shop owner is known for sharing her unique style on her Instagram. In her recent posts, she shared a number of pictures of outfits she wore during her Cabo vacation.
Sutton Stracke has been seen vacationing in a lot of top-notch places but seemed to be particularly excited about her Cabo vacation. At the beginning of her trip, she posted an image of herself and shared the comment, "Cabo birthday begins." In the image, the 51-year-old TV personality/businesswoman/socialite was seen wearing a white bikini with yellow seahorses and looked much younger than her age.
The reality TV star shared numerous images from her trip, which appeared to be shared with three of her close friends. During her trip, Ms. Stracke enjoyed some local activities and great restaurants. Her Instagram does not specify where she stayed, but she visited multiple places at Las Ventanas Al Paraiso, so it's likely she stayed there as well. We'll list the places she checked in at while in Los Cabos so others can visit these places and wine, dine, and play like a celebrity too.
Zig Zag Sail Baja Adventures
Zig Zag is a popular sailboat tour company that is known for having the most luxurious catamaran in Los Cabos. Sutton Stracke shared images and videos of her and her friends sailing on the Fountain Pajot Belize 43. The company has been taking elite guests like Ms. Stracke sailing for eight years and is accustomed to providing superior service and will sail guests to some of Cabo's top sightseeing destinations like The Arch and Lovers Beach.
Árbol at Las Ventanas Al Paraiso
Arbol is a coastal Asian-style restaurant located in the luxurious Las Ventanas Al Paraiso resort in San Jose del Cabo. The restaurant features a raw bar with seafood from around the world flown in and uses exotic far East spices in their dishes. Sutton Stracke shared pictures of her, and her travel companions all dressed up and ready to dine at the elegant Los Cabos restaurant.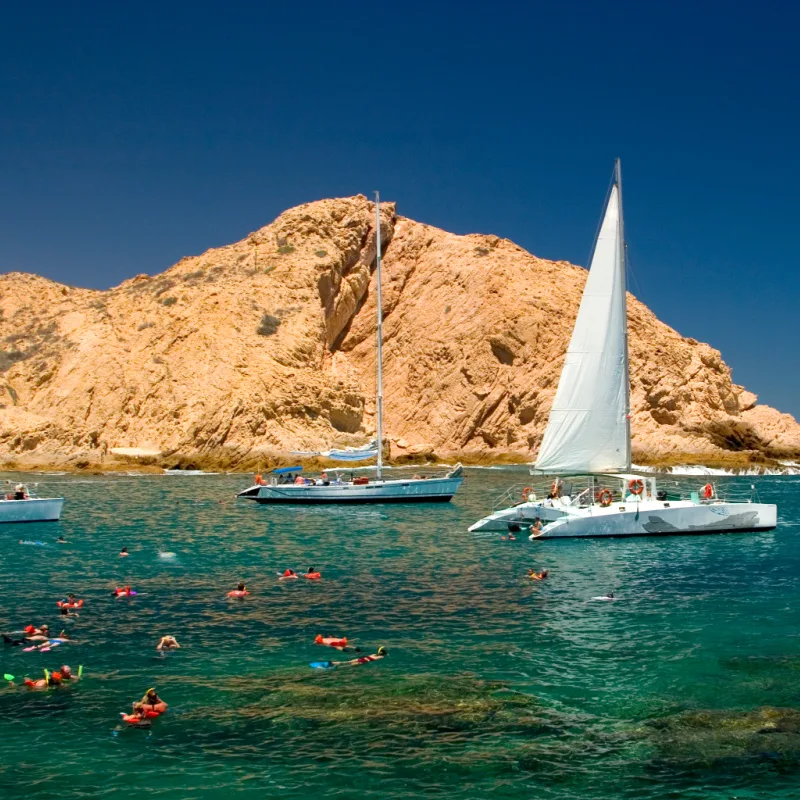 La Botica Speakeasy at Las Ventanas Al Paraiso
La Botica is anything but your typical bar, with its own mixologist serving signature drinks as well as classics from the Prohibition era. The apothecary-themed speakeasy has a dress code, and a $75 minimum spend requirement per person. The bar is open every day from 7 pm – 1 am and also features an Artist in Residence Tuesday through Sunday from 9:30 pm – 12:30 am. Ms. Stracke commented that she would be visiting the classy venue and later shared a video of herself enjoying her time there.
Flora Farms
Sutton Stracke also took some time to visit Flora Farms, although it is unclear what the purpose of her visit was. The working farm spans 25 acres and has a lot to offer in addition to fresh organic produce. On the property, there is a restaurant, a bar, a spa, a grocery store, shops, and luxury homes available to rent for those that are interested in culinary arts. Flora Farms is located in the foothills of the Sierra de la Laguna Mountains just outside of San Jose del Cabo.
Celebrities visit Los Cabos all the time, and while it may be expected that they stay at the most exclusive resorts and only visit the most expensive restaurants, they often visit places that can be enjoyed by anybody. In the case of Sutton Stracke, she visited a number of places that you can visit on your next Cabo vacation too.