Last Updated
One of the most popular beaches in the Los Cabos area has set its daily visitor limit. The capacity limit will move forward for the foreseeable future. Officials informed the public that Balandra Beach will allow 640 people to visit each day through two different block schedules.
Setting limit on Balandra beach
This week the Director of The Flora and Fauna Protection Area of Balandra Beach, Dilia Meza, announced restrictions for visitors. Going forward, Balandra Beach will only allow 640 people a day to visit. They will organize visitors through two different blocks during the day.
The first block will allow 320 people to visit Balandra Beach from 8:00 am to 11:00 am, and the second block will be from 12:00 pm to 3:00 pm, with 320 people allowed as well.
The limits on visitors to the beach are put in place for several reasons, to keep the protected flora and fauna area from being overrun with tourists, social distancing from the pandemic, and lack of staff.
Mez stated that if their staff can increase in the near future, they will be able to open more than two entrance blocks so that more visitors can visit Balandra.
Tourists respect the limit
Dilia Meza has discussed how authorities expect visitors to follow the rules and respect the restrictions in place. Balandra Beach has regulations in place, and tourists respect it. "We have not had any issues with visitors. When entering the beach, they have defined the rules clearly, and informed visitors of the schedules and when they need to leave."
Officials have also mentioned the number of visitors to Balandra are 70% tourists, both foreign and national. There can be issues with outside tourists coming to a local beach and not understanding the rules. Still, officials have communicated with them effectively, resulting in no problems, says Meza.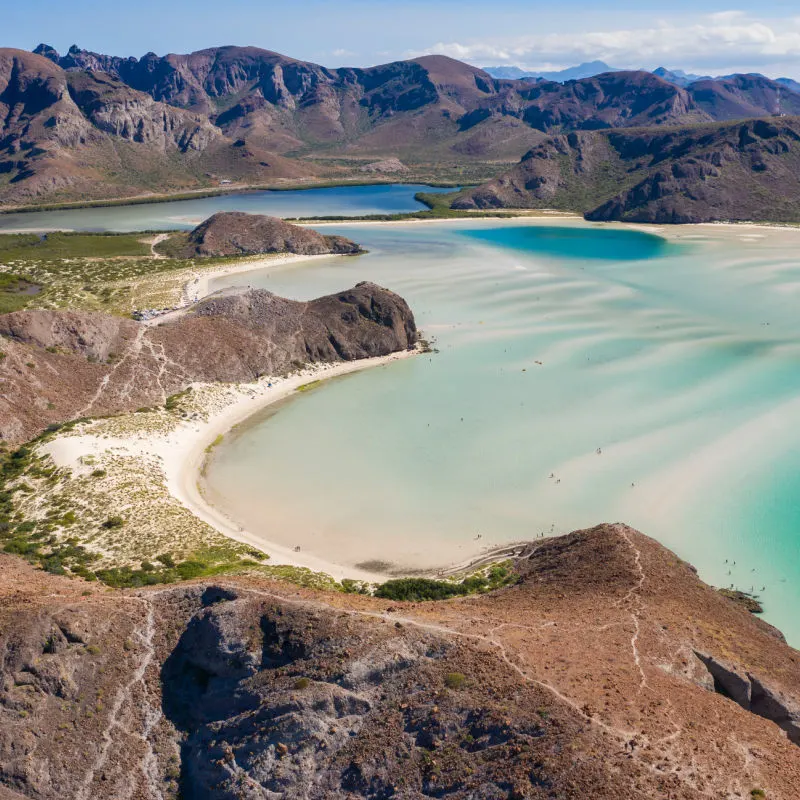 Keeping Balandra clean
One of the reasons for block schedules is to keep Balandra clean and respect the protected floral and fauna area. Many beaches in the state report high rates of garbage generated by visitors. Littering destroys the natural beauty of the area and prevents tourists from returning.
Because of the visitor limit and transparency of the rules, Balandra hasn't suffered the same fate as other beaches. Meza is pleasantly surprised with cleanliness, "No garbage has been generated on Balandra. Visitors are told to leave their trash and are responding to the task. It is the responsibility of all visitors to comply with the rules and help protect the natural area.
Popularity of Balandra Beach
Balandra beach is one of the most beautiful beaches in Mexico. With its white sand beach, dunes, crystal clear blue waters, and desert backdrop of red-hued hills, it's easy to see why Balandra is such a popular tourist destination.
Balandra has calm shallow waters that are perfect for activities such as swimming, kayaking, and SUP boarding.
It has an inner edge that transitions from blue water to a mangrove forest that is full of brightly colored fish, blue crabs, and herons flying around.
You can find tourists year-round wanting to spend time at Balandra, which makes it an essential attraction for this area of Mexico. If you are visiting the site, make note that it is about 2 ½ hours away from Cabo San Lucas, but only 30 minutes from La Paz. Balandra is worth visiting; just make sure to check the restrictions and times available for visitors.