Los Cabos is quickly racing to the top of the favorite Mexican vacation destinations list, resulting in a major increase in hotels being built in the area, and now a new Four Seasons will also be coming to Cabo in 2023. At a time when at least 1,500 more hotel rooms are expected to be available over the next few years, the new Four Seasons is expected to be one of the premier hotel options in the Los Cabos area. The property sits on 50 beachfront acres located along the well-known Los Cabos Corridor, situated between Cabo San Lucas and San Jose del Cabo, in the Cabo Del Sol development.
In addition to being a resort, the new Four Seasons will also feature private residences with exclusive amenities. The resort portion of the Four Seasons Resort and Residences Cabo San Lucas at Cabo Del Sol will consist of 96 accommodations, which will include 74 guest rooms, 17 suites, and five private villas. This is all in addition to the 61 private residence villas that will also be located on the property.
Construction on the site began in the middle of 2021 and at the time there were already more than $100 million in private presale reservations for the residences. Each of the residences boasts breathtaking views of the Sea of Cortez from the huge windows and spacious private terraces and every one has its own private pool. Some of these residences will likely be available for rent in the future, as owners will be able to make them available under the Four Seasons Private Retreats rental service.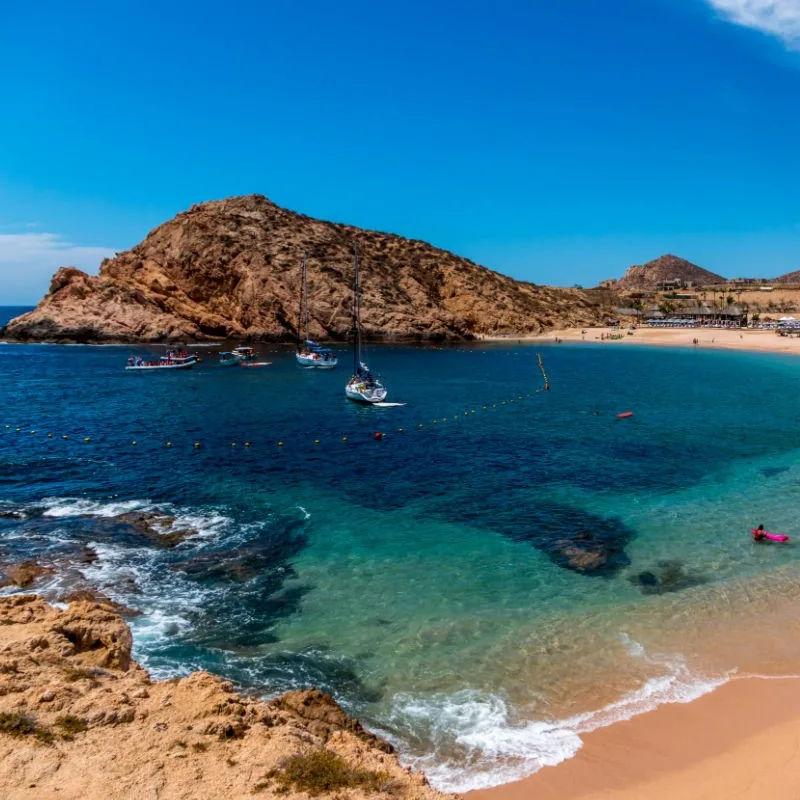 As far as amenities go, beyond the spectacular views, there is plenty to keep everyone in the family occupied. There are separate family, adult, and lap pools as well as a spa and a state-of-the-art the art fitness center for both owners and guests to enjoy. There will also be a Kid's Club with activities to keep the children busy.
Multiple restaurants will be located on the Four Seasons property, with options ranging from casual to fine dining, including a restaurant with a rooftop bar where guests can go stargazing. Guests that enjoy shopping will love having access to the open-air shopping center, or Mercado, which translates to "market." It will feature both high-end brand offerings, as well as products from local vendors in the area.
Of course, a beachfront resort wouldn't be complete without its own private beach so this can be found at the Four Seasons too. And if the beach itself isn't enough there is also a private beach club that is part of the Cabo Del Sol development. A private golf club is also part of the Cove Club, with access available to Four Seasons guests as well.
The Los Cabo Corridor is home to many world-class resorts offering not just breathtaking views but amazing amenities. It used to be an area that exclusively hosted the rich and famous, and while there are still plenty of famous people who visit Los Cabos, it is now accessible to the average tourist too. Brush elbows with celebrities while living in luxury, even if for only a few days, and it won't take long to see why so many travelers love Los Cabos.
The new Four Seasons gives those visiting Cabo San Lucas or San Jose del Cabo another world-class option for planning the ultimate Cabo vacation. It is set to open in 2023, with no final date yet set for opening.