Last Updated
Los Cabos has become a very popular tourist destination for Hollywood A-listers. Leonardo DiCaprio is one of the celebs that have been coming to the area for years. In fact, Leo's affair with Los Cabos goes back for more than a decade plus. He's rumored to own an upscale villa in the region. With certain reports indicating that the home is within the Pedregal real estate development. A couple of days back DiCaprio was spotted arriving via a private jet to the smaller Cabo San Lucas Airport.
DiCaprio was accompanied by his girlfriend Camila Morrone. The 24-year-old was potentially better equipped for the heat of the beach city. As she was wearing a white sundress, a large hat and shades. She looked ready to settle into the private beach at the villa. Meanwhile, Leo arrived with a black hoodie, and a Dodgers cap. Clear signs that the couple wasn't necessarily in a sunny city before taking the plane ride out to Cabo. Los Angeles had been chilly, and rainy over the last few days, possibly explaining Di Caprio's attire. Down in Baja California though, the sun is shining, and the stars are out.
Camila Is Not The First Lady That Leo Brings To Cabo
In 2017 DiCaprio was spotted in these Mexican beaches with then girlfriend Nina Agdal. In that instance Leo was walking around Cabo beaches without much of a care. Until he was spotted by the paparazzi, and he decided to put a towel over his head. Back in 2014 it was Toni Garn's turn to visit Leo's private Cabo getaway. They were spotted downing some tacos at a local stand. For the most part though, Leo is able to spend time in the region without being bothered too much.
Model girlfriend Bar Rafaeli was famously spotted with Leo in Los Cabos way back in 2010. Ironically at that time Leo had already met his current girlfriend Camila. Back then though, Camila was just a teen.
The 24-year-old Camila met the now 47-year-old Leo when she was just about to turn 13. They met through, what we could call a mutual acquaintance. Camila's stepfather is none-other than Al Pacino. When he introduced the pair we can't imagine that Al believed the two would form this type of relationship down the road.
Why Leonardo DiCaprio Loves Cabo So Much
There are a couple of reasons that Leo may point to as to why he keeps a beach home in the Cabo area. One of those reasons may be that privacy is within reach for celebs in Cabo. For Leo a trip down to Cabo San Lucas via private plane is just a short ride from his LA residence.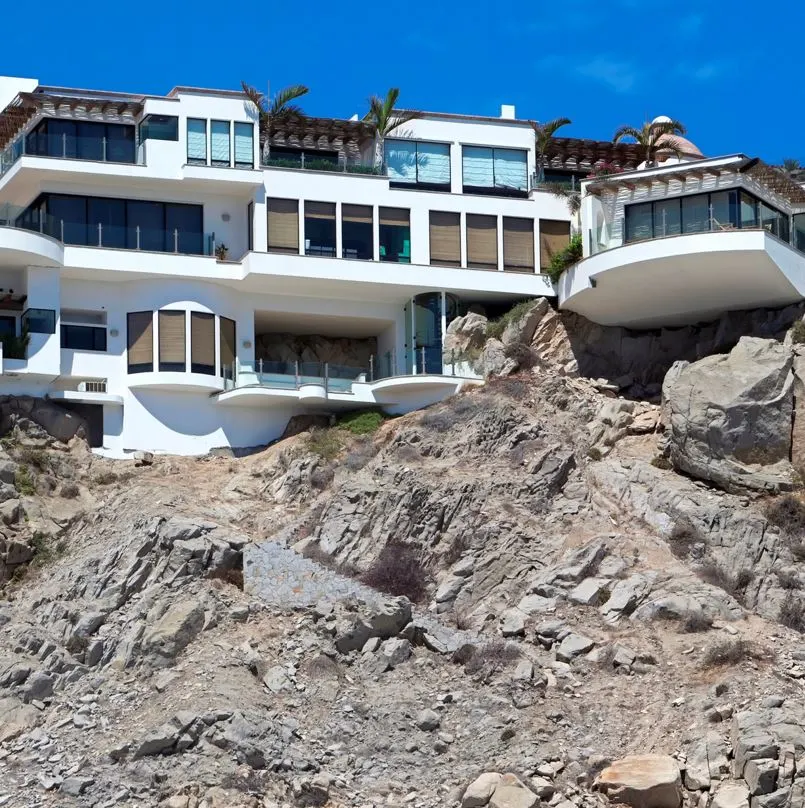 He's able to arrive at a smaller Airport in Cabo San Lucas. Instead of having to mingle with the common folks at the San Jose del Cabo international airport. As we mentioned before he's been able to find privacy in a beautiful vacation spot. Something that a person in DiCaprio's position cherishes.
In this particular trip to Cabo Leo and Camila were spotted on the tarmac at the private airport. They were able to quickly board a limo though, which took them to their final destination. Even if Leo is not in the mood to stay at his private villa he can always have a room prepared at the Nobu Hotel. The complex. Back in 2019 DiCaprio, and actor pal Robert De Niro were on the VIP guest list for the grand opening of the hotel. At the time it was widely speculated that he and De Niro may have been financially involved in the project. However, the story eventually died out without a full confirmation of the rumors.