Last Updated
Los Cabos is set to welcome more cruise ships into the area as the season picks up in October after stormy weather which is expected throughout September.
Currently, cruise number are particularly low for the region, mainly due to hurricane season with storm Javier causing strong winds and rain across the area and storm Kay expected to also cause poor weather conditions.
Around 17 cruise ships are expected during the month of September, although these are currently not guaranteed as ships may not be able to sail or dock in bad weather, meaning cruises may be cancelled or rescheduled.
Tourist operators and vendors in the tourist zone of Cabo San Lucas are particularly optimistic that October will see an increase in visitors and improve their income, which often relies heavily on day and overnight passengers.
Guides and merchants who operate exclusively by the marina have said that the season has still been good so far, despite the lack of visitors but with the upcoming influx of tourists, things are set to improve.
Aside from tourists arriving by air and road, cruises often bring 3,000 – 4,000 passengers into the area, and two ships may visit on the same day, adding up to 10,000 extra tourists in the area who contribute widely to the economy.
The Royal Caribbean ship which was docked in the port this previous Saturday brought approximately this number of tourists, which was a positive boost to the area during a month of bad weather and fewer tourists.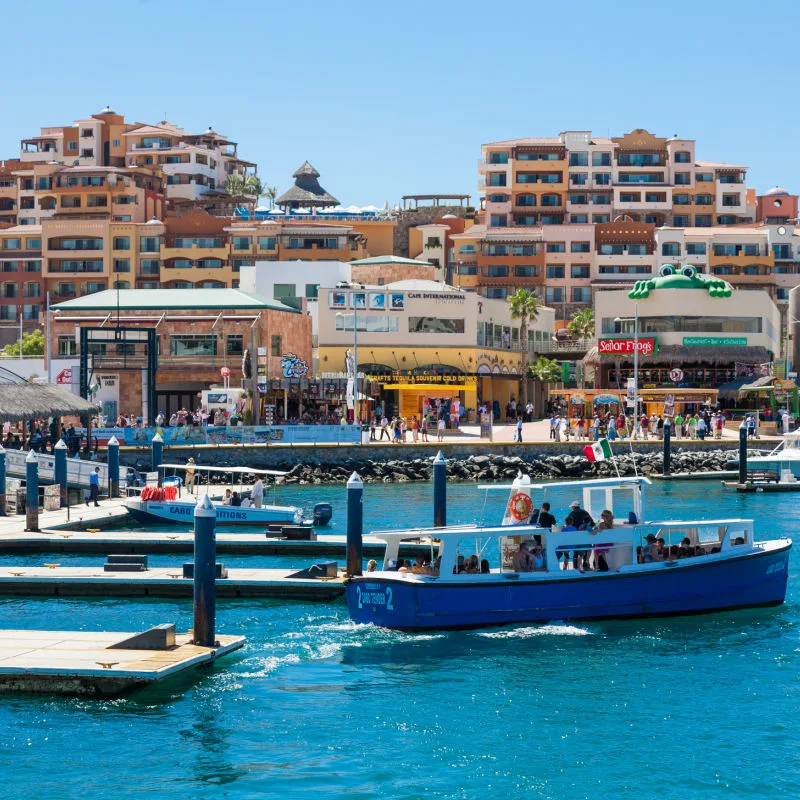 Locals who work in the marina are particularly dependent on cruise ship arrivals as they are the first merchants people see when disembarking and will likely book tours and activities with them, or buy souvenirs before going back to their ship.
There are also many restaurants in the vicinity of the marina which are popular with cruise passengers for lunch and dinner, for convenience and proximity to the ships.
Workers in the marina are keen to have a positive impact on all tourists who arrive in the area because they are likely to then recommend Cabo San Lucas as a destination to friends and family, leading to more business for the region.
Cruise passengers on average can spend between $50 to $100 US dollars when visiting, in the various restaurants and shops, and on tours and activities such as boat trips, hiking or water sports.
Based on an average cruise ship, this could contribute an extra $400,000 to Cabo San Lucas in just one day.
Once hurricane season has died down, it is expected that a huge number of visitors will arrive in Los Cabos, having already booked cruises, hotels and package vacations for October onwards, and particularly over the winter break.
The region has risen dramatically in popularity in 2022, with up to 7 million visitors expected by the end of the year due to new hotels, new flight routes and new cruise stops.
Los Cabos and La Paz were both included this week on Vogue's list of the best places to visit in Mexico, and combined with the regular celebrity visitors to the area, numbers are only set to continue increasing.
The authorities are keen for this trajectory to continue, with new developments being built, such as a new Four Seasons hotel opening in 2023. They are also investing money in protecting tourists out on the water, particularly during the low season.
However, along with Los Cabos' reputation as a luxury destination comes a high cost. Hotel room rates are at a record high and the area is currently the most expensive vacation destination in Mexico.
Visitors to Los Cabos spend on average $2,500 on a standard trip, on hotels, activities and food, compared to just $1,000 – $1,500 in other popular places such as Cancun and Playa del Carmen.