A patch of rough weather is hitting Los Cabos currently, although temperatures are set to remain in the mid to high 80s wind speed is picking up considerably. These conditions have sparked multiple warning signs that have been emitted by local authorities in Los Cabos. Virtually all of the most visited beaches within the Cabo coastline feature some type of flag waving as a sign of warning to tourists, and locals alike.
This is something that maybe isn't affecting activities in the streets, and entertainment venues in Los Cabos. Since, as previously stated the weather is set to remain warm, and not a lot of rain is expected to fall in the coming days. However, it's not necessarily a great time to head to a Cabo beach. If you are keen to catch some sun, and venture into the still chilly water in Cabo beaches you may want to stick to certain spots that are currently considered "less dangerous".
Yellow Flag Beaches Are Considered The Safest Option
Out of the flags that are meant to issue a warning sign to beach goers, the yellow flag indicates typically the most mild of conditions. A yellow flag warning doesn't necessarily mean that the beach is in perfect conditions. Instead, it's meant as a sign to indicate tourists, and locals should proceed with caution if they venture into water. Ideally in these situations if you do go into the water it's wise to not swim too far away from shore. Even when near the beach you could still feel the pull of strong tides.
In mild conditions you'll feel the tide in the form of streams of colder water coming and going from time to time. When conditions get more severe swimmers will undoubtedly feel the stronger pull usually tugging them towards the ocean itself. The beaches that are currently at a yellow flag warning level include, El Corsario, El Chileno, Acapulquito, Santa María, La Gaviota, La Ribera y Palmilla. Beaches like Acapulquito are potentially going to be filled with surfers looking for the big waves that are said to appear in the coming days.
Red Flag Warnings In Virtually The Entire San Jose del Cabo Coastline
A red flag planted on the beach means that swimmers can experience some of the same situations that are present in yellow flag scenarios. Conditions under a red flag are generally much more severe, and therefore it's recommended that beach goers refrain from entering the water at all. Currently, the beach within the tourism corridor of San Jose del Cabo, where most of the hotels in that area are located, is operating under a red flag.
Lifeguards in the area are trying their best to ensure that people refrain from going in the water. As previously stated, many of them seem confused since the weather hasn't necessarily been all that poor to warrant major warnings on beaches. It's the wind though that is causing these adverse conditions. Another popular beach, Las Viudas, has red flags waving in the sand. Advising people to stay away from the water.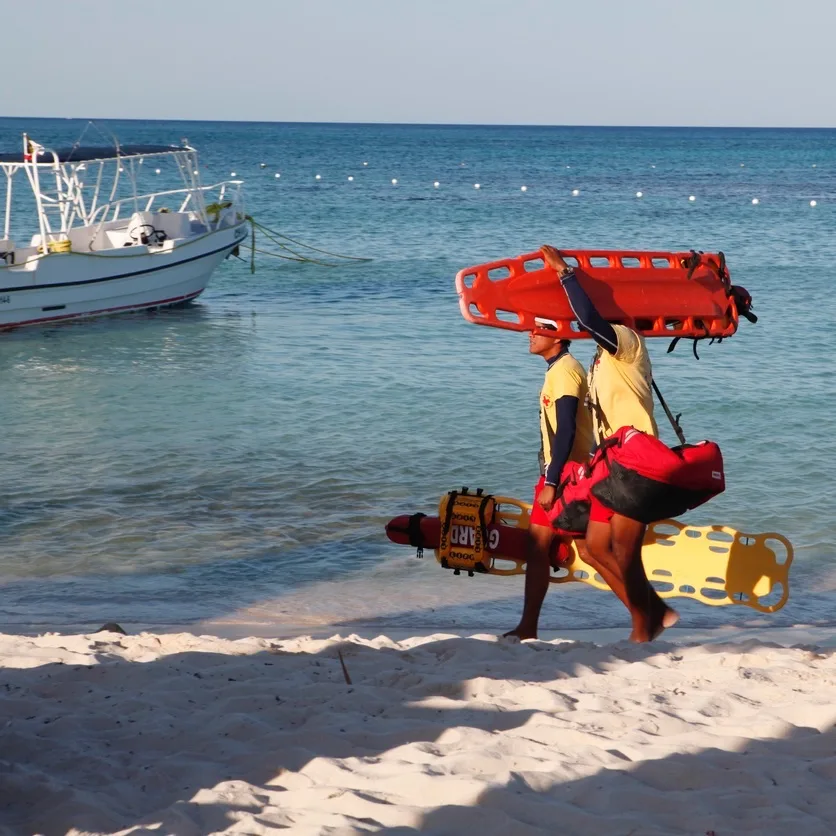 White Flags Don't Mean Ideal Conditions
Seeing a white flag planted on a beach doesn't necessarily mean that it's a good idea to go in the water. Actually white flags tend to indicate the presence of a potential danger in the water. Most of the time they are reserved to indicate that some type of dangerous marine life has been spotted near the shore.
Currently, the beaches of El Medano, and El Corsario are operating under the white flag. In both situations the issue seems to be the presence of jellyfish, and sea urchins near the shore. If you don't want to get stung it's probably best that you stick to sunbathing in the sand.