Visitors on their way to the beachy vacation spot Los Cabos will need to think twice before entering the water, looking out for colored flags that are meant to indicate water conditions. Five different conditions are represented by five different colors, all of which those looking for some time on the beach should make themselves aware of before taking a dip.
Authorities of the Federal Maritime Terrestrial Zone (Zofemat) are in charge of hanging the flags, using a number of conditions to make their final decision. There are many areas around Los Cabos that are not swimmable, with unpredictable and strong underwater currents. However, that doesn't mean that guests can't participate in a number of activities including sports fishing and whale watching. Before taking a dive into the many beaches surrounding the Los Cabos area, visitors should be aware of the flags and what each color represents.
Green Flag
Beaches that display a green flag are safe for entry. Green flags fly high when water has optimal conditions, and all activities can be done safely and securely. Green flags are typically seen in the busiest seasons in Los Cabos, including all December through May. Once late June comes around, waters will start to get a bit more active. While water can get rough at any time, it's less typical during the most popular travel times in Los Cabos.
Yellow Flag
When flags are yellow, visitors can still participate in a lot of in-water activities, though they will need to use caution. Yellow flags are used to signal caution, as waters might be rough, winds may be blowing, or there may be a storm expected soon that may make waters rougher. Yellow flags are common during busy season too, flying here and there from December through May.
Blue Flag
A blue flag doesn't have much to do with the water conditions but does require that travelers take care when entering the water. Blue flags are indication that the waters may have dangerous marine life like jellyfish, stingrays, and sharks. Water starts to warm up a lot more from July to November, which is favorable for many dangerous sea creatures. If you plan travel during these months, you'll likely see blue flags on most beaches.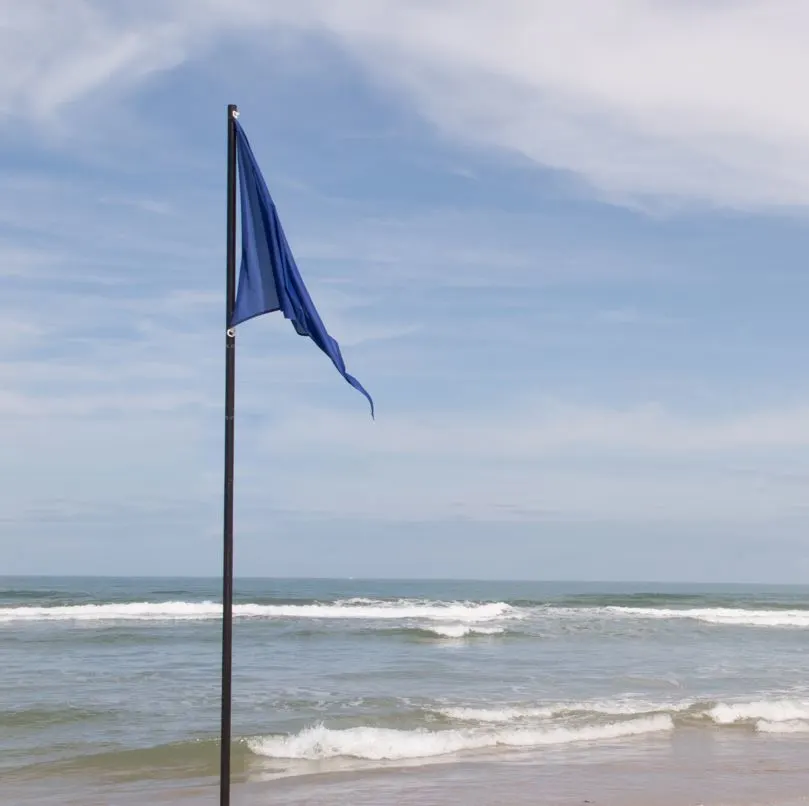 Red Flag
Visitors that see red flags may notice that beaches are empty. That's because red flags indicate that it's prohibited to enter the water. Guests can hang out on the beach, so long as the current and winds are not too overwhelming. Though red flag warnings do allow visitors to go to the beach, it's recommended to use caution even while walking along the beach due to strong currents.
Black Flag
When black flags are hung along the beach, visitors will have to come back another day. Not only is it prohibited to get in the water, it's also not allowed to be on or near the beach due to inclement weather. In instances like these, visitors can consult with their resort, as many have plans in place in case of heavy rain, wind, or hurricanes.
Visitors that stay at one of many Los Cabos hotels will be notified about any dangers at nearby beaches. If there are any concerns, guests can ask concierge services for an update and additional information about the flags and their meanings. Beach warning flags are universal, so understanding what they mean for Los Cabos, travelers with a passion for beach vacays can be in the know, able to gauge when the waters are safe and when they need to be avoided.