Last Updated
Airbnb's are a popular lodging option for tourists in Los Cabos, with many to choose from, including one of the most luxurious in the world that is located in Cabo San Lucas. Casa Cielo Pedregal was named one of the top 12 Airbnbs in the world by Architectural Digest, making the list alongside homes in Beverly Hills, Malibu, and Tuscany, to name a few. It comes with a price tag of more than $4,500 a night and the views alone could put it on that list, but the house is something to feast the eyes upon too.
In Cabo San Lucas alone there are nearly 6,000 vacation rentals, many of them with breathtaking views and beautiful interiors. The average price for renting one of these homes for a night is around $2,600, not a small amount of money by any means. So, what makes Casa Cielo Pedregal so special that it costs nearly double that amount to rent?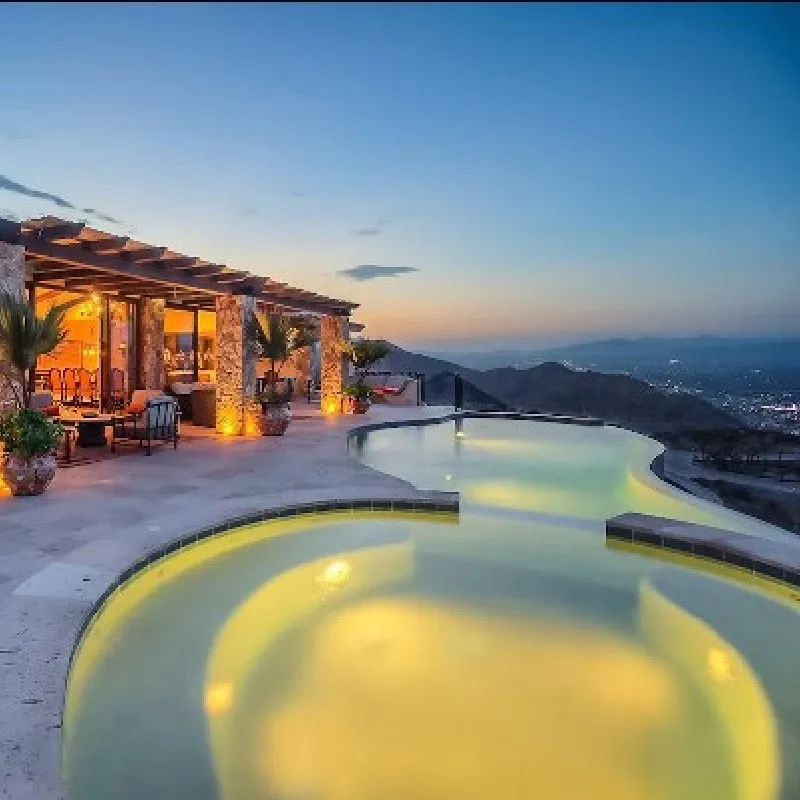 One thing that makes this vacation rental property so special is its breathtaking view of El Médano Beach, with floor-to-ceiling windows throughout much of the house and a spectacular pool overlooking the city. But it is not just the views that make it special but the inside as well. With room for 16 guests, not only is Casa Cielo Pedregal a well-appointed luxurious property but can be considered a mansion as well.
Decorated to blend with the surroundings, with high-end furniture and décor, visitors will feel like they are living in luxury during their stay. Some of the features that make this property so special include:
9 Bedrooms with King Size Beds
9 and a Half Bathrooms
Balconies Off Each Bedroom (Also with Views of El Médano Beach)
Fully Equipped Kitchen
Formal Dining Area That Seats 14
Game Room
Exercise Room
Infinity Pool
Outdoor Kitchen
Hot Tub
Media Room
The amenities at Casa Cielo Pedregal make for a comfortable stay but the extras that can be added on are what true luxury is all about. Not only can guests have their host book their activities and excursions but they can even have the house restocked with whatever they might want during their stay. But the ultimate amenity that is offered at this one-of-a-kind Airbnb is the option of having chef services added on during the stay.
A vacation in Cabo San Lucas should be something special and while a $4,500 a night Airbnb might not be in everybody's budget there are plenty of special places throughout the city to stay in. There are nearly 100 hotels in the Los Cabos area overall, with more than 20,000 rooms combined. And Los Cabos is such a popular vacation destination that those rooms stay almost fully booked for much of the year.
Like other tourist areas in Mexico, Los Cabos reported a record-breaking year for tourism this year, with March being one of the busiest months. During March more than 300,000 visitors passed through the city, representing an 18 percent increase compared to 2019. For the first quarter of this year, the area has seen a 13 percent growth overall compared to 2021.
Airbnbs are a popular lodging option for those traveling to Los Cabos but it is important to remember that they are not as regulated as hotels in the area. This makes it much easier for dishonest people to scam unsuspecting tourists out of their money. With a little vigilance though, tourists can find the perfect hotel or Airbnb for the perfect vacation in the paradisical vacation destination that is Cabo San Lucas.