Last Updated
There are an endless amount of activities that tourists can enjoy when visiting Los Cabos, but five tours, in particular, are the most popular on the tour booking site Viator. Viator is a Trip Advisor company that offers tours for cities all over the world and features nearly 100 different options in the Los Cabos area. Los Cabos is made up of the two separate but equally adored cities of San Jose del Cabo and Cabo San Lucas, each with unique experiences to offer.
Many people visit Los Cabos because it has spectacular beaches and a plethora of luxury all-inclusive resorts, but for those looking for some adventure during your stay, you don't have to go too far to find it. Everything from sailing to horseback riding on the beach is offered in the area, and there are plenty of tour operators to go through. The five tours we'll list here get the most reviews from like-minded adventurers, making them the most popular on the list of offerings you can find on Viator.
Los Cabos Camel Outback Adventure and Eco Farm Tour
This four-hour tour takes tourists to an oceanfront ranch on the Pacific coastline, where they can ride camels on the beach. Hotel pick-up from most hotels in both Cabo San Lucas and San Jose del Cabo is included, as well as an authentic Mexican oceanfront lunch and a tequila tasting. The tour is $109.00 and can be booked for the morning or afternoon on any day of the week.
Los Cabos Outdoor Ziplining and UTV Adventure
The six-hour ziplining and UTV adventure is for the thrill seeker looking for adventure in Cabo. Tourists who book this tour will have the opportunity to tour the desert in an off-road UTV buggy and see some amazing views of the Boca de Sierra National Park and then zipline through the jungle. Drop-off and pick-up from many Cabo San Lucas hotels is included, and lunch and water is provided for guests, all for the price of only $129.00.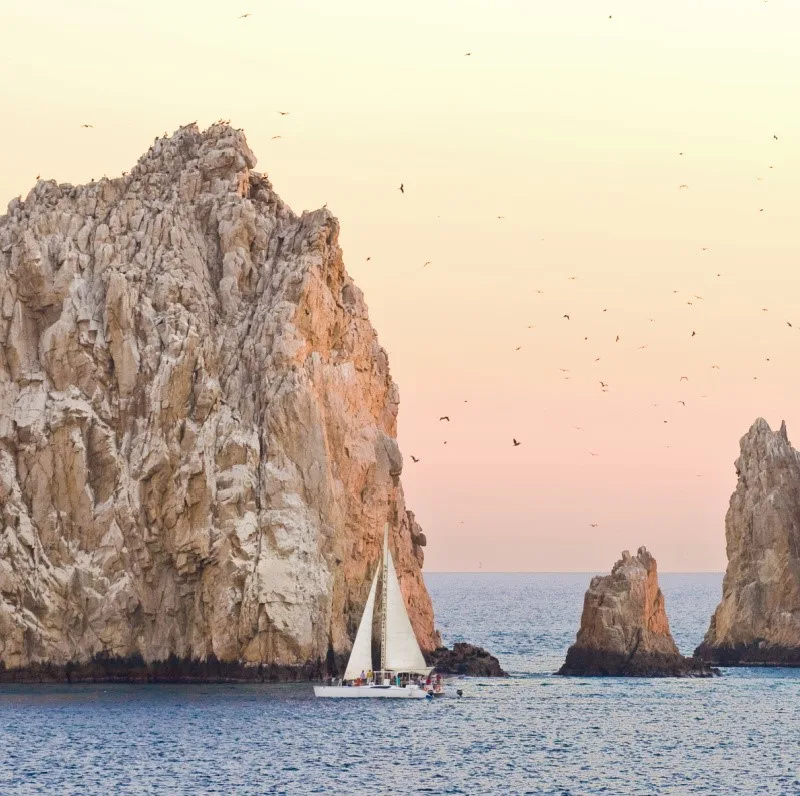 Cabo San Lucas Downtown Food and Tacos Tasting Experience
When in Mexico, one must eat like a local, and the Cabo San Lucas downtown food and tacos tasting tour is a great way to explore the culinary wonders of Cabo. The walking tour lasts approximately three hours and includes stops at multiple eateries where tourists can try traditional favorites like tacos and quesadillas, as well as some classic Mexican dishes and local delicacies. The tour costs $68.00, and tour-goers meet up at the Mercabo Gourmet Street Food restaurant.
Cabo San Lucas – Beach and Desert 4×4 ATV Tour
There are many ways to see the beaches of Cabo San Lucas, but not all let you see as much as an ATV tour, and this one lets you see the beaches and the desert. Hotel pick-up from most Los Cabos hotels is available for this two-hour tour that takes visitors to the G-Force Adventures Park, where they can go off-roading through canyons and creeks before ending up on Margaritas Beach. Lunch is included, and guests will have the opportunity to get a glimpse of rare white lions at the park, all included for the price of $80 plus a $15 park entrance fee.
Sunset Cruise with Open Bar and Snacks in Cabo San Lucas
A trip to Los Cabos isn't complete without a sunset cruise where visitors can get an up-close look at some of the area's top attractions like Lovers Beach and the famous arch. This particular two-hour tour also features an open bar and provides snacks for guests along the way. From April 3 – October 30, the tour runs from 6 – 8 pm and costs just over $57.00. Guests are required to meet at Cabo Blue Boat at Marina del Rey in Cabo San Lucas.
Many people who visit Los Cabos never even leave their all-inclusive resort, but there is a world of adventure out there. These are just a few of the tours worth booking if, on your Cabo vacation, you want to venture out and explore.