Last Updated
Tafer Hotel & Resorts has just announced their 'Made In Mexico' event that's set to kick off the entire month of September. It will include a wide range of one-of-a-kind events that highlight Mexico's culinary and cultural arts like mezcal and tequila tastings and traditional Mayan healing treatments with natural, local ingredients. Guests staying in Garza Blanca Resort & Spa in Los Cabos can access activities during their stay by reserving a spot and, in some cases, paying additional fees.
During the 'Made In Mexico' event, guests can enjoy exclusive small bites to eat made include local ingredients and down by the poolside, special cocktails are served as a welcome treat. The most notable events include mezcal and tequila tastings, tequila making classes hosted by local tequila makers, cooking lessons featuring fresh guacamole, homemade mole, and traditional Mexican desserts, and cooking demonstrations paired with ritualistic storytelling.
Garza Blanca Resort & Spa in Los Cabos is located between Cabo San Lucas and San José del Cabo in a sandy spot that's surrounded by ocean views. The location is just 30 minutes from Los Cabos International Airport – with transportation services available to and from. View of the Pacific Ocean are all around as well as views of the surrounding dessert-like landscape complete with cacti and golden, sand-filled hills. Ocean front suites feature private balconies and oversized hammocks for a relaxing view of the ocean.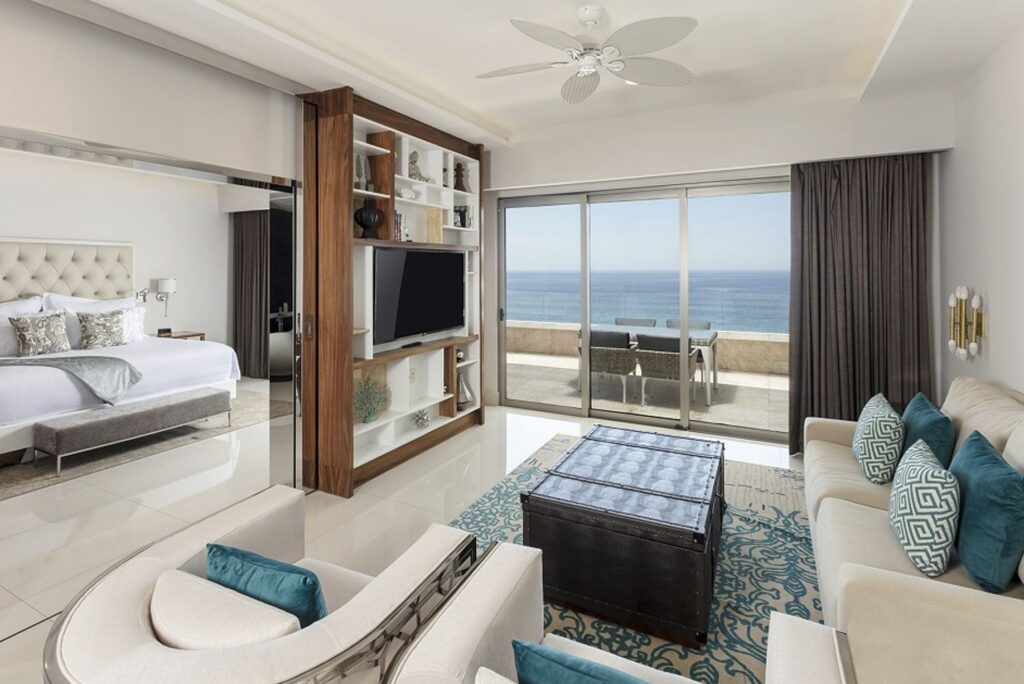 Guests who book during the month of September can score access to additional perks, including a mezcal welcome kit, a bottle of Mexican wine, daily servings of traditional Mexican coffee "Café de Olla," a relaxing ritual-based massage with all-natural Mexican-grown ingredients, and turndown services that feature traditional Mexican candles. All of this is included on top of the long list of the resort's amenities. Guests can choose from 8 limited-edition lofts and penthouses for accommodation and take a dip in one of 8 pools surrounding the property.
The month of September is a special one in Mexico – celebrating Mexico's independence. The biggest celebrations take place on September the 16th, including parades and festivals that all Los Cabos guests can enjoy. Both Cabo San Lucas and San José del Cabo will have events in the city center and several activities happening in resorts, restaurants, and more throughout the entire Independence Day week.
The celebrations typically start as early as the 13th, though it's the night before, September the 15th, featuring the grito, the Cry for Independence. The battle cry is followed by parades with dancers and traditional music filling the streets throughout the evening followed by mariachi performances and a firework display to end the night.
Events are historically significant, mimicking the 1810 cry for battle that sparked a revolution against Spain. Aztec priest Don Miguel Hidalgo issued a call to arms in the small Mexican town of Dolores, leading troops into battle for 12 days before officially declaring Mexico's independence from Spanish control. This triumphant event marked the end of the Mexican War of Independence.
September the 16th is a national holiday, much like Independence Day in the U.S., with most citizens off of work to enjoy the day. The day is filled with festivities and citizens that attend parades dressed in traditional attire. Celebrations usually continue throughout the night and do not end until the wee hours of the morning. Visitors in Los Cabos on September the 16th can expect party vibes in most surrounding nightclubs and crowds of locals letting loose and having a good time as they celebrate one of the most important national holidays of the year.