Last Updated
All-inclusive resorts have their pros and cons, but one thing is for sure, it helps most to stay within a budget when planning a getaway. Cabo is not the exception, and even though it's well known for its high-end luxury resorts, you can still find great options that offer an excellent value for their price. Here we break down the top 7 affordable all-inclusive resorts in Cabo for 2022.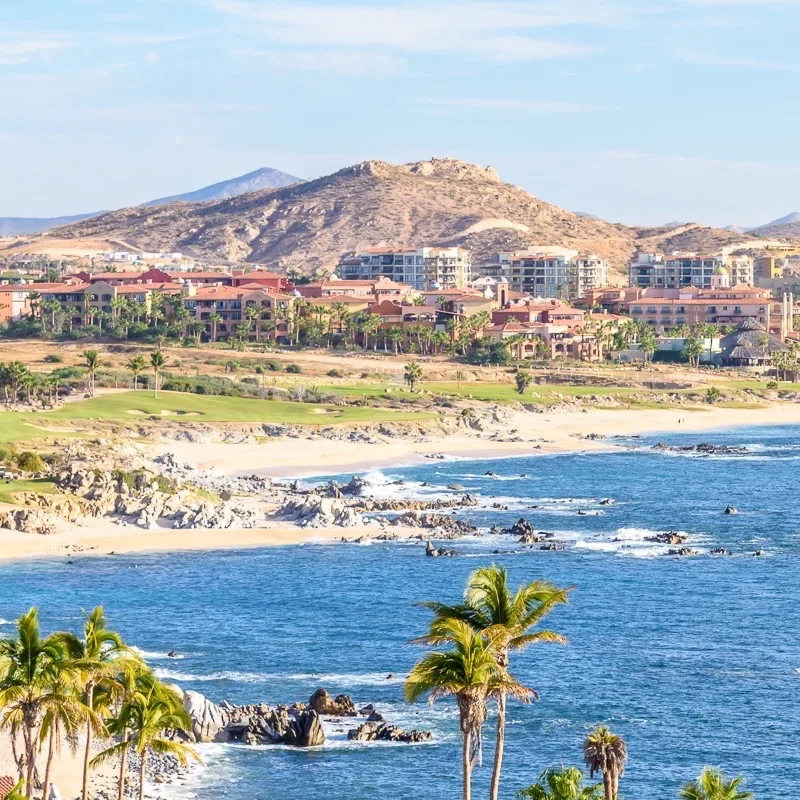 Playa Grande Resort
Family Friendly
The Playa Grande is located in Cabo San Lucas and offers spectacular Marina and Pacific Ocean views. It's very close to the shopping and dining district of downtown Cabo. With beautiful Mexican décor, it's an excellent option for families with the kid's club, miniature golf course, swimming pools, and many amenities.
Check Prices at: Playa Grande Resort
Pueblo Bonito Los Cabos Blanco Beach Resort
Great Beach Location
The Pueblo Bonito Blanco is located right on Medano Beach, one of the best beaches in Cabo. The Mediterranean décor, with its white walls and colorful tiles, invite you to relax in their charming suites. You can relax under an umbrella with a margarita or jump into the swimming pool, surrounded by beautiful gardens.
Check Prices at: Pueblo Bonito Los Cabos Blanco Beach Resort
Villa del Arco Beach Resort & Spa
Gorgeous Beachfront Property
Villa del Arco is a family-oriented resort with amazing views of the Land's End. Right on Medano Beach, this 222-room property also offers a great dining selection. It has a lively atmosphere where you'll enjoy its architecture and décor. The resort is famous for its central swimming pool with a full-size pirate ship and pirate-themed bar, a play area with fountains, and a swim-up bar.
Check Prices at: Villa del Arco Beach Resort & Spa
Pueblo Bonito Rose Resort & Spa
Walking Distance to Town
Like its sister location, the Rose is right on the lovely Medano Beach. It's called Rose because of all the pink hues you'll find in its swimming pool, beach loungers, and décor. With large luxury and master suites, you'll enjoy amazing ocean and pool views. All 260 suites have kitchenettes and a beautiful balcony with red tile floors. The décor has a Roman feel, with marble busts, a Neptune statue, and stunning Florentine columns. Another perk is that if you want to try different restaurants or enjoy a stroll in downtown Cabo, you can walk and skip the taxi.
Check Prices at: Pueblo Bonito Rose Resort & Spa
Villa del Palmar Beach Resort & Spa
Fabulous Views
With direct views of the iconic Arch, this 460-unit property is also kid-friendly. The rooms are decorated in neutral colors, and they all have kitchens, and most have ocean views. The swimming pool areas can be pretty crowded, especially the pool with the waterslide, which is quite popular with families. There are three restaurants and live entertainment with themed shows. You can access the spa at its sister property (Villa del Arco). This is a fun resort, especially if traveling with friends or family.
Check Prices at: Villa del Palmar Beach Resort & Spa
Marina Fiesta Resort & Spa
Near the Marina
This colonial-style resort has beautiful views of the marina, and in keeping with the theme, rooms are decorated with nautical accents. The Marina Fiesta is conveniently located close to the Marina and Puerto Paraiso Mall, with great views and affordable rates. Guests of the resort have access to the boardwalk through a private gate. With its prime location, you have access to the restaurants in the Marina Golden Zone or its on-site dining options.
Check Prices at: Marina Fiesta Resort & Spa
The Westin Los Cabos Resort Villas
Great for Couples
The Westin is an upscale modern-style property located on the Cabo San Lucas-San Jose del Cabo corridor. You'll not be near any of the Los Cabos towns, but the resort offers everything so guests can enjoy this secluded property. This is a favorite option for couples who can enjoy the peace and quiet and stunning setting of this property. They offer large rooms and a kids' club for families too. Even though it's a beachfront resort, the ocean is dangerous for swimming. Guests can choose between seven gorgeous pools, many with ocean views.
Check Prices at: The Westin Los Cabos Resort Villas