Last Updated
Los Cabos have its fair share of mega-resorts catering to the all-inclusive crowd; however, if you're looking for a more low-key side, they have excellent options too. Boutique hotels provide an exclusive solution that has adapted to the new trends dictated by travelers. These smaller properties are full of stories, details, and personalized attention.
Here's an intimate list of gorgeous boutique hotels with beachfront, impeccable design, and a more relaxing atmosphere. These stunning spots are perfect for a bespoke vacation for even the most discerning traveler.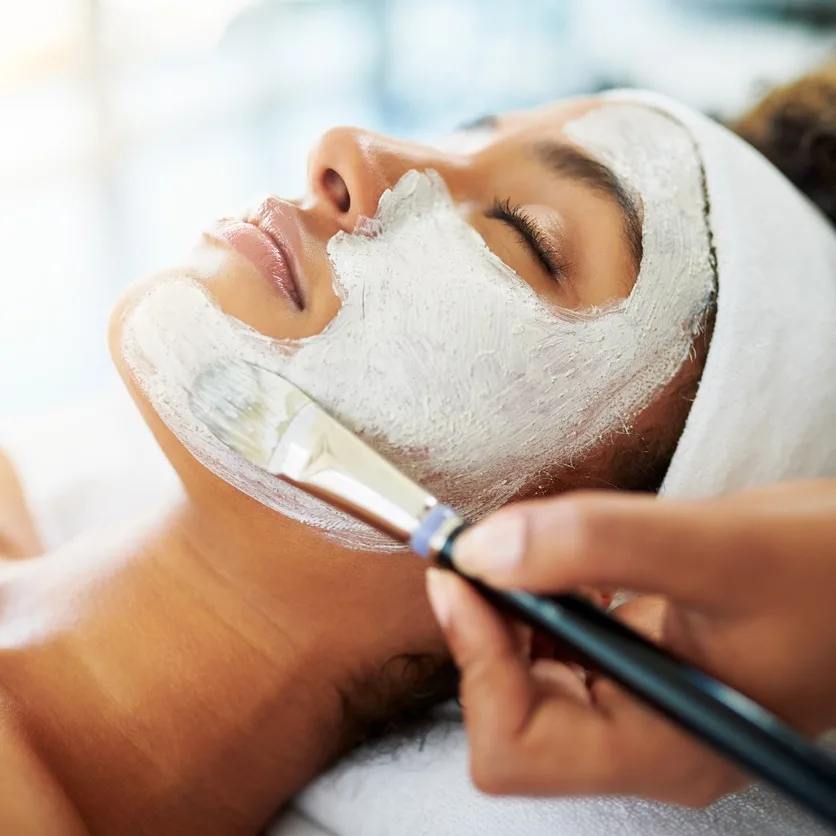 Mar del Cabo by Velas Resorts
Mar del Cabo has a nostalgic atmosphere that embraces you and whisks you away to a different time when travel had a mysterious romance. It has a spectacular view that welcomes guests who want to disconnect and enjoy a relaxing vacation, in a setting that reminds us of a Greek island in summertime.
Here you can expect the service standard set by its sister property, Grand Velas, where the staff will make you feel right at home. Concierge services will always help with recommendations and tips to visit the best places in Cabo.
Travelers offer rave reviews about Mar Del Cabo, including its unique property where each room has its own personality and layout. If you're looking for a stylish space with a chill beachy vibe, Mar del Cabo is for you.
Check Prices at: Mar del Cabo by Velas Resorts.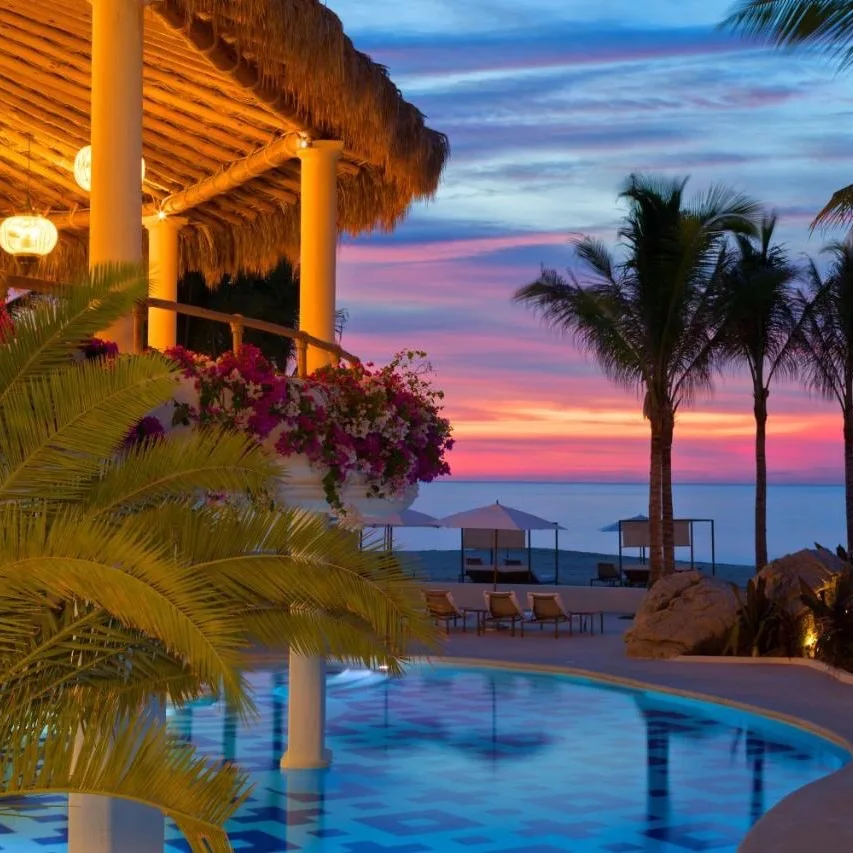 Marisol Boutique
Located in charming San Jose del Cabo in the main hotel zone and next to the beach, you will find Marisol Boutique Hotel. Marisol Boutique is the perfect intimate boutique hotel if you want to experience a great stay away from the crowds and the hustle and bustle. The property has spacious rooms with amenities decorated in Mexican art, lovely terraces, and affordable prices. If you're looking to escape the massive properties in Cabo and enjoy a cozy stay, you will also find the beach is just a few feet away. This location has an excellent location and great value, as you'll always find their friendly staff ready to help. The hotel offers complimentary continental breakfast, and on Fridays, there's a wine tasting event with charcuterie snacks. This property is an excellent option if you want to stay in San Jose and enjoy the many activities near town.
Check Prices at: Marisol Boutique.
The Cape, a Thompson Hotel
The Cape is an elegant property with a hip, contemporary vibe—a favorite among couples looking for a laid-back ambiance but surrounded by luxury. The Cabo San Lucas resort has 161 rooms with modern décor, and they all have stunning views of the iconic Arch. The main building has rooms with terraces, where you can lounge and relax to the sound of the ocean. Manta is one of the top-rated restaurants in Cabo, and you can find it here at The Cape. Featuring Peruvian, Mexican, and Japanese fusion food, Manta sources local and sustainable ingredients from Baja. It has two swimming pools and a duo of outdoor spa cabanas. If you're looking for a luxury boutique hotel, The Cape will capture you with a unique experience for your Baja vacation.
Check Prices at: The Cape, a Thompson Hotel.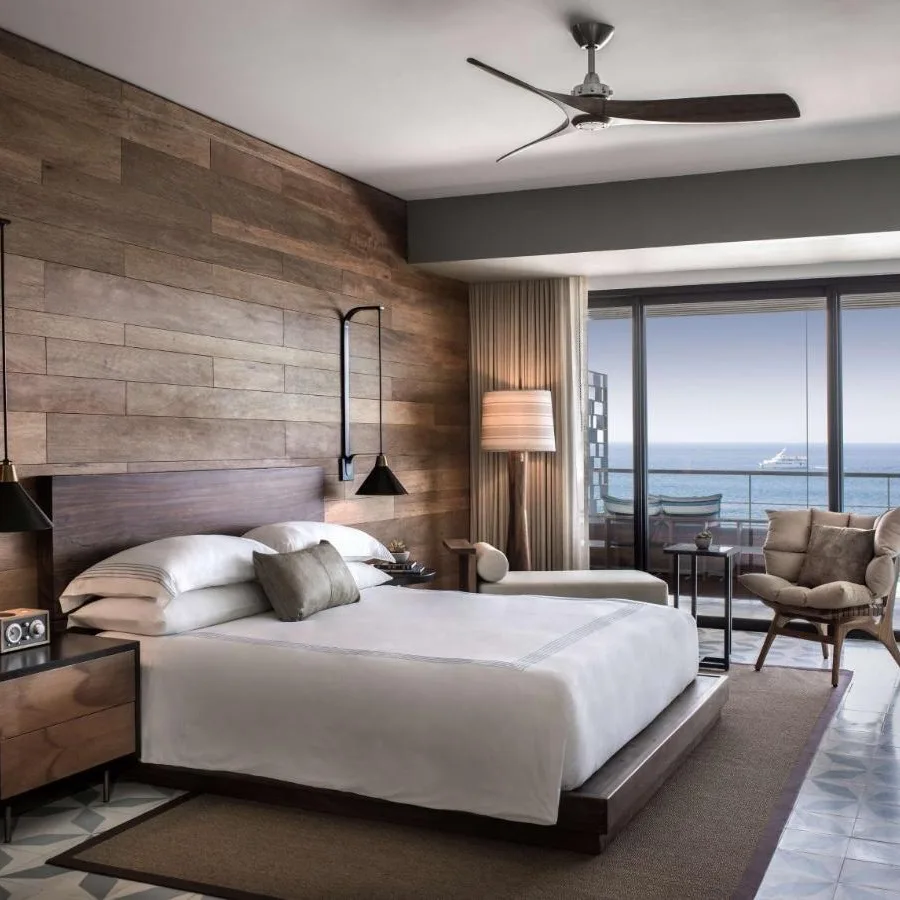 El Ganzo
Located in San José del Cabo, Hotel El Ganzo stands out for its excellent location, just a 2- minute walk from the beach. It has a chic vibe, where guests can interact with artists and musicians in a luxurious setting. Its rooms are decorated in a modern style, with bohemian touches provided by the elements of worn wood that give them life. The outdoor pool and its rooftop bar overlook the bay, where you can enjoy the relaxed atmosphere. It houses two restaurants, one of them specializing in sushi, and a cafeteria. Its private beach club offers a sophisticated note to this chic boutique hotel.
Check Prices at: El Ganzo.
Cabo Surf Hotel & Spa
A favorite among pro and amateur surfers, this boutique hotel is located on the cliffs of Acapulquito beach. With 36 rooms and suites decorated with marble floors and handcrafted Mexican wood furniture, most offer spectacular ocean views. The hotel has the 7 Seas Seafood Grille restaurant, where you can delight your palate with fresh local seafood in a romantic ambiance by the sea. It is the perfect combination of surfing and pampering that you would want in your stay.
Check Prices at: Cabo Surf Hotel & Spa.